SF Limo Service for Game Days
The Big Question: How are we going to get there?
Home to a couple of the most prominent sports teams in America, San Francisco hosts many games. Therefore, SF limo service for game days is a MUST. When you're heading to a sports event, it's easy to get caught up in the excitement of the venue. But, don't forget about transportation! You want to be able to get there and back comfortably, without having to worry about traffic or finding parking.
MGL Limo is the perfect choice for SF limo service for game days in the Bay Area. We're experts in sports transportation, and we can help you get to your game safely and on time.
Whether you're headed to the Golden State Warriors, 49er's, Giants, Sharks, or even to the Oakland Athletics game, we've got you covered. Our chauffeured limousine service will get you there in style, with ease, and get you out at the end of the night with no worries about parking or getting lost in a sea of people.
No traffic concerns. No parking issues. A luxury ride experience is ready to take you anywhere you might want to go. It could be all the way up to the main gates, a sports bar, or back home. All you have to worry about is getting your game day on and step out of our premier vehicle with your ticket in hand. With a chauffeur-driven luxury car at your service, you can sit back and enjoy the day to the fullest. 
On game day, you can smell the barbecue from the parking lot around the stadium. There's electricity in the air from fans tailgating and rooting for their team. Also, in a city full of folks who love nothing more than to celebrate on game day, there's definitely an issue with traffic and parking. It can be tough to find parking at the Chase Center, Levi's Stadium, the Coliseum, and Oracle Park. , which can dampen your mood before you even get inside.
Plus, if you're planning on drinking during the game, you might have some trouble finding a designated driver—or even getting home if your friends aren't willing (or able) to drive. Fortunately, MGL Limo has the perfect ride to take you to the game – without losing a member of the group in the parking lot! Our chauffeured limousine service is the way to take your game day experience to the next level, one you won't forget!
MGL Limo makes a sporting event a perfect event. Let us handle the transportation so you can focus on the game and festivities!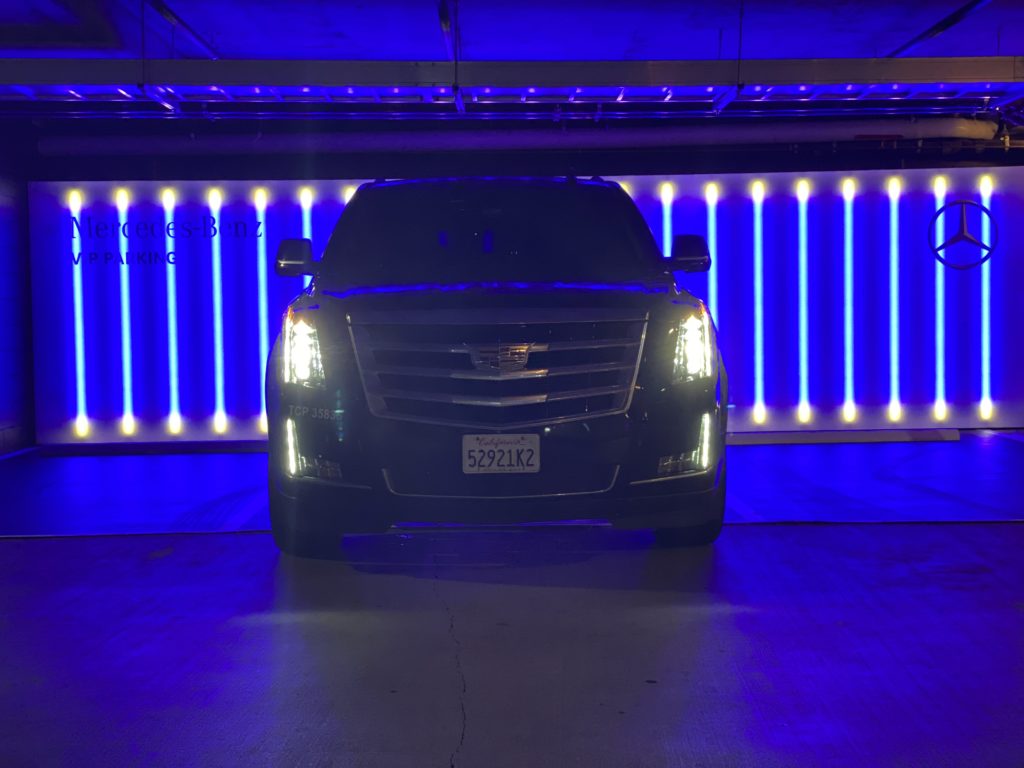 Our Executive SUV Cadillac Escalade parked in the Chase Center VIP Parking Lot