Many individuals switch to Limo Hiring Service for many reasons. Some of them is Safety and Guaranteed service. Hiring a Limo Service brings peace of mind to your travel!
There is no doubt how much ridesharing services have changed how we travel. They make it simple to find a short ride on different occasions. However, these services need to be fixed both administratively and with the drivers. Hiring Limo Service would be a safe and reliable option.
In this article, we will be looking at why Limo Services are better and safer then rideshare.
Why you should book Limo service: MGL Limo – Executive Black Car
The drivers in limo service are more responsible than that of Rideshare
Rideshare drivers are paid per ride. They pay less attention to adequate care and usually drive recklessly, thereby endangering clients' safety. In order to accomplish as many rides as possible in order to earn more money. It also means riding with a stranger because you never know who will arrive to pick you up. Also, ridesharing services are still unregulated, and there are currently no service standards. It renders them untrustworthy and risky.
However, Limo drivers are responsible for the level of service they offer to customers. Their employment and driver's license are in jeopardy if they don't adhere to the regulatory requirements. On the other side, rideshare drivers have less requlations.
Our drivers at MGL Limo are highly qualified professionals ready to guarantee passengers a quick, safe trip to their destination. Our service ensures that all drivers are well-trained and knows the San Francisco Bay Area.
Guaranteed ride with limo services
One con of ridesharing services is that the driver can cancel the journey even after driver have accepted it. If you are in a hurry, you would have to schedule another pickup.
Undoubtedly, ridesharing services are a wonderful choice if you need a ride immediately. You open the app, request a ride, and wait a little while for a vehicle to come. The problem is that these applications can't ensure you'll always be able to acquire a ride.
Some crucial elements can greatly complicate things when you're using these apps. For instance, your phone needs to be connected to the internet to access the app. Thus, finding drivers in the area is only possible with good internet service.
When you make a reservation with First Class Limo Company will ask and verify all trip details.
We offer limo services to Napa, Sonoma, and entire California. Click the link to contact us or call us at +1-(415)699-3138.
Limo Service provides a unique experience
The vehicles used for ridesharing are typically quite average. In many cases, they are simply the driver's private car, minivan, or Station wagon. 
On the other side, Limo Service provides elegance and luxury. Limo Service is the most elegant way to get to your destination safely and comfort. Additionally, professional limo services provide more individualized service. Limo Service arrives with your party in mind, while Rideshare cars may serve dozens of customers throughout the day.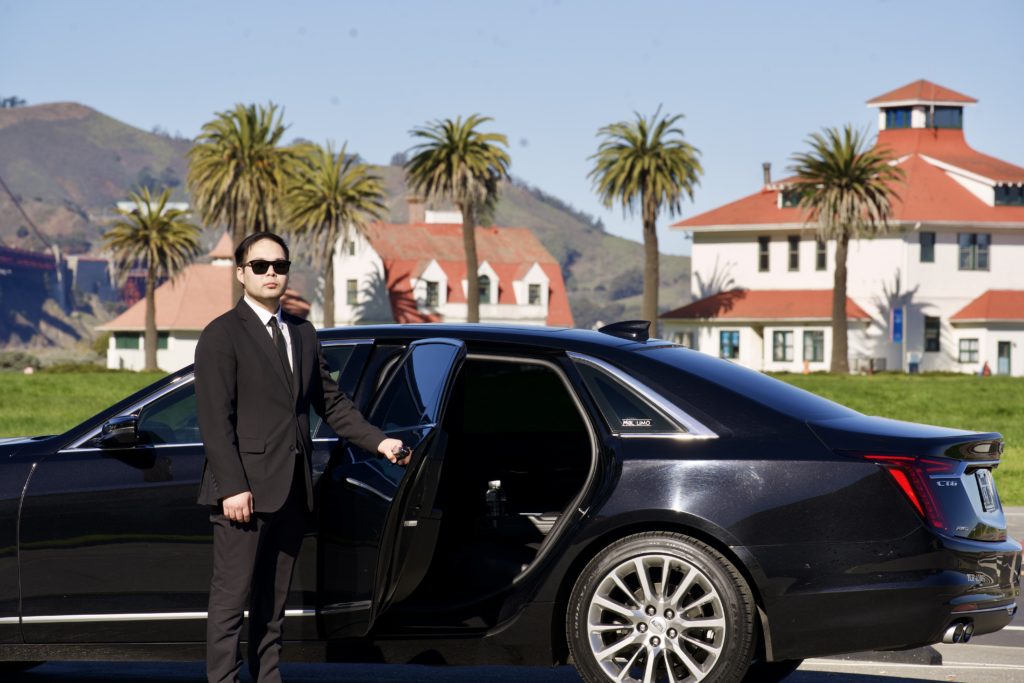 Limo Bus can be affordable option for large group
Everyone anticipates that limo services will be expensive. While rideshare services might be faster than limos at getting people from point A to point B. Limo Company can accommodate large groups. Therefore, limo service might be the best option for large groups.
Hiring Limo Service The best limo services in San Francisco. MGL Limo – is happy to handle everything from ceremonies to glamorous nights out and other unique occasions.
You can call us at +1 (415) 699-3138 to reserve your next event after viewing our vehicle selection and prices online.
Limo Service can accommodate group of 12 or more
Have you ever tried to get a rideshare with a big number? You'll be able to fit five or six passengers in the car. When you have a large group, you'll have to book multiple rides to get everybody where they need to go. 
However, hiring Limo Service with a limo service, you'll have alternatives for your gathering. Ranging from to 12 people in Executive or Party Sprinter. Equipped with a music floor, bar, music systems, and wide-screen TVs.
If you're looking for a limo to accommodate you and your friends, book a schedule with MGL Limo. Offering the most Luxury Black Car Service in the San Francisco BAY AREA. Providing Private sedan and a fleet of SUVs, Sprinters and Busses.
We also provide airport pick ups and drop offs to all major Airports. We do offer Child Car Seats. Infant, toddler, and booster seats are also available for family travel. Our drivers are always willing to assist you with your luggage at the airport. Please contact us at +1-(415)699-3138 any time/ anywhere.
Request your comfort with Limo Service
When it comes to ridesharing services, they all have one objective: to get you to your destination as quickly as possible so they can obtain a good rating. It seems fantastic at first, but if they go to the toughest part of town to avoid traffic, your trip may be less pleasant than it is.
When you hiring limo service from a trustworthy company in San Francisco, Napa, Sonoma, or any other city like MGL, you will be able to arrive as quickly as possible and safely.
Furthermore, limo services consider client requests. With a high-end limo service, you can also request a specific chauffeur with whom you previously had pleasant feedback, which is unavailable with ridesharing services.
Our Limo services in MGL are discreet and private. If you want to go quietly but in style, booking a ride with our limo service is best. You won't have to think about anyone approaching or bothering you while riding in our SUV. The seats are entirely yours, including the climate settings, music selection, and any assistance from our drivers, who also serve as an informal tourist guide.
Limo Service understands the importance of time management
While you can call cab company or hail a rideshare from the street, you may have to wait till a driver is prepared to accept your demand. And if you call from a destination outside the main city or order a ride at odd hours, you may have to wait an hour or more. 
This could easily disrupt your entire schedule. If you have something important coming up, such as a flight, a corporate event, or picking up a potential customer from the airport, the damage could be even more severe, resulting in a negative assessment of your competence.
But the case is different with limo services. In MGL Limo, we ensure that we will always be available to pick you up once you book your ride. We offer Limo Services to all major airports such as SFO, OAK, SJC, SMF, LAX, SNA, BUR, MRY, DEN, JFK, EWR, STS, e.t.c
Limo Company has commercial insurance.
By using Rideshare, almost everyone has the opportunity to drive. However, if you want to make your ride more enjoyable and, more crucially, if you want to make it more secure, you must ride in a vehicle that has commercial insurance and would cover your medical bills, lost wages or rehabilitation costs should anything go wrong. 
At MGL Limo services, we cover drivers and passengers with commercial insurance. All our staff members are dependable and trained.
Contact us at MGL Limo: Executive Black Car Services
Well maintained Fleet in Limo Company
A limo service company's main assets are Luxury Fleet of Cadillac, Mercedes- Benz. You'll never have to worry about the condition of your ride due to regular servicing and a committed crew for supplying and maintaining the vehicles.
When planning your coming activity or transit services during a business meeting, you need to have a sense of calmness. The best method to receive a trustworthy, expert, and pleasant car service that takes you where you have to go in luxury is to use a limo service—hiring a limo service sets your nerves at ease rather than trusting an app to manage your occasion.
We offer various services at MGL Limo, including transportation to Airport, Hourly As Directed. Make a reservation right away.
So is it Limo Service or Rideshare?
Finally, you are now aware of why limo service is preferable to ridesharing. This means you now have more justifications for booking a ride. MGL Limo service is the ideal method to ride in style if you will be traveling for work or leisure or if you're traveling with your kids or pets. With our services, You won't have to bother with other passengers or get too concerned about your location. With our private vehicle service, you can experience all the advantages of the greatest transportation while traveling in luxury.